Primary Care Association: Texas Association of Community Health Centers
Austin, TX | www.tachc.org
Contact: Jana Blasi, Deputy Director
There have been many changes to health insurance coverage in the U.S. over the past 10 years such as declining employer-based insurance and increased government insurance, but the uninsured rate has stayed relatively constant. In 2010, 16.3% of the U.S. population was reported to be uninsured. Households with incomes less than $25,000, Hispanics, and Blacks are more likely to be uninsured than others. [i] Among the uninsured are many families with children who are eligible for public health insurance programs, such as Medicaid or CHIP. Many families remain uninsured for a number of reasons including: government health insurance programs may carry negative stigmas within the community, they are known to have a difficult or complicated application process, or many families simply do not know about the programs or believe that they are not eligible. Barriers to enrollment must be addressed so that eligible families can be successfully enrolled.
In order to assist eligible children in enrolling and retaining public health insurance coverage, the Texas Association of Community Health Centers (TACHC) leads a coalition of three Federally Qualified Health Centers and their community partners in four Texas counties. The coalition aims to increase health insurance coverage for Hispanic children, with an emphasis on migrant and seasonal farmworker children. One of the many strategies TACHC has adopted is Prescription for Coverage, a program that uses providers to write prescriptions for uninsured patients to seek enrollment assistance.
Prescription for Coverage is built upon a widely used program intended to promote early literacy and school readiness: Reach Out and Read. Reach Out and Read uses pediatric primary care providers to talk to parents about the importance of reading to children daily. As a way to reinforce the message, providers write a "prescription" for parents to read to their children. Similarly, Prescription for Coverage enlists pediatric providers to help identify uninsured children and talk to the parents about the importance and benefits of having health insurance.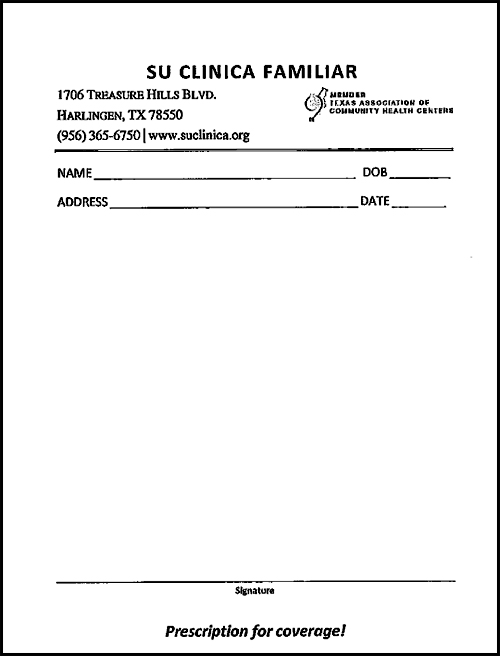 Creating relevant messages and using trusted messengers to deliver enrollment messages is one way of addressing barriers to enrollment. Providers are ideal partners to identify and refer uninsured children. Over half of respondents to a survey conducted by the Centers for Medicare and Medicaid Services (CMS) chose doctors, out of nine potential messengers, as their preferred trusted messenger about whether they should enroll in public health insurance.[ii] TACHC recognizes that parents in their service area listen to their providers. Through Electronic Health Records systems, the providers have access to the insurance status of their patients. If a provider sees that a child is uninsured, the provider can talk with the parents about getting insurance coverage and how to apply for Medicaid or CHIP. The provider has a "prescription" pad, a prescription template created by TACHC specifically forPrescription for Coverage, to write instructions for how to access an application assistant. See image below for the Prescription for Coverage prescription template.
TACHC's Deputy Director trains the CHIPRA-II project lead at each of the partnering organizations. Training includes how to work with providers within their respective organizations to implement the Prescription to Coverage program. To ensure commitment to participate, TACHC's Deputy Director also works with the Chief Executive Officer (CEO) of each partnering health center to establish the program at their health center. The CEOs are then responsible for relaying the information about the program to the Chief Medical Officers. Once trained by the CHIPRA-II project leads, the providers are given the prescription pads supplied by TACHC.
In order to track the impact of the "Prescription for Coverage," application assistors (staff who work with families to complete their Medicaid or CHIP applications) are asked to determine how the family has been referred to them. This information is input into an Excel tracking document created by TACHC to help collect a variety of data about the number of children being enrolled and renewed. The referral source is one of the key data points for each application. While it is too early to measure the overall success of the strategy, TACHC is hopeful that Prescription for Coverage will have results similar to the successful Reach Out and Readprogram.
For organizations interested in adopting the Prescription for Coverage program, TACHC recommends establishing a clear plan for how the program can be implemented in their health center and determining how data will be tracked, collected, and reported. It is also recommended to consider the best way to ensure that providers receive appropriate training. It may be helpful to work directly with the CEO to make sure that he or she supports the program. If possible, offer training about the program directly to providers. Take advantage of staff meetings to ensure all providers understand the purpose of the program, why it is important, and how it is implemented and tracked.
When planning data collection, it is important to provide basic and clear instructions to application assistors. To ensure that there is no confusion about expectations around data collection, TACHC recommends including a list of definitions for vocabulary that may be unfamiliar to the application assistors. Once data collection begins, project leads should follow-up with application assistors about any questions or concerns they may have about data collection. Finally, it is important to provide follow-up training to guarantee that new staff members have an opportunity to learn about how to implement the program.
The Texas Association of Community Health Centers (TACHC) is a private, non-profit membership association that represents safety-net health care providers in the state of Texas. TACHC serves as the federally designated primary care association of Texas and is one of the recipients of the CHIPRA-II grants awarded by Centers for Medicare and Medicaid Services (CMS).
---
HOP Tip: Contact HOP and ask about our Public Health Insurance Outreach Training-of-Trainers curriculum for more information about:
public health insurance outreach
strategies for enrollment
defining messages, messengers, and mediums