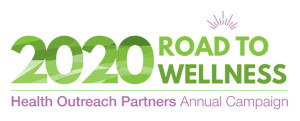 In June 2020, HOP will celebrate its 50th year of commitment and service. This major milestone is one that most organizations never see. To celebrate, and pave the way for the next 50 years to come – HOP is launching a fundraising campaign, Road to Wellness 2020. All funds raised will directly support HOP's expanded commitment and role to prioritize health care access and equity for poor, marginalized, and disenfranchised communities nationwide while allowing HOP to build its organizational infrastructure for long-term sustainability.
HOP would be honored to have your support through any contribution that can be afforded. There are a number of ways you can participate in HOP's efforts. All donations are tax deductible.
Network for Good
Follow the link and make a secure online donation through Network for Good.

Corporate Sponsorship
HOP offers many ways for your company to connect with your audience, our network, and the greater health safety-net community.  Click Here to see sponsorship levels.
Donate While You Shop
While shopping online via Amazon, you can select HOP's AmazonSmile account and have a percentage of your eligible purchase donated to HOP.