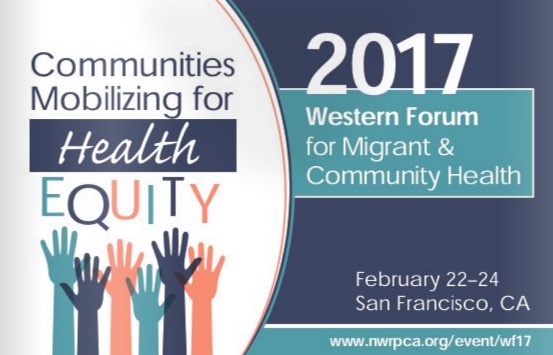 Spend three days immersed in learning more about tackling zika, digital storytelling and CHWs, immigration and the way forward, social change, and numerous other timely topics.
Health Outreach Partners will be attending and presenting workshops on Migrant Health 101, Collecting, Analyzing, and Using Data from Outreach Workers and Promotores(as) de Salud for Effective and Responsive Community Health Needs Assessments, and Not Just a Ride: Opportunities to Address Healthcare Costs and Strengthen Patient-Centered Transportation Solutions. Look for our sessions and come say hello to our staff!
Partners and collaborators in Pennsylvania: take a look at this upcoming training opportunity for Community Health Workers at Temple University Harrisburg funded (in part) by HRSA's Bureau of Health Workforce.  Please see below for more information.
Are you ready for a new career?
Community Health Workers are:
Trusted members of the community who have an unusually close understanding of the community served.
Liaisons between health and social services and the community who facilitate access to services and improve the quality and cultural competence of service delivery.
Individual and community capacity builders who increase knowledge and self-sufficiency through a range of activities such as outreach, community education, informal counseling, social support and advocacy.
Questions?  Contact susan.washinger@temple.edu or CLICK HERE for more information about the Community Health Worker Training Program and the Orientation Dates.
Join our partners, AAPCHO and Asian Health Services, for this webinar to learn about the tools and strategies that health centers can utilize to support engagement with patients who work in the nail salon industry and improve their health!
Nail Salon Worker Patient Health: A Health Center Guide
Tuesday, January 24, 2017
1:30-2:30 p.m. PST / 4:30-5:30 p.m. EST
Due to a major gap in federal legislation, known carcinogens, reproductive toxicants and endocrine disruptors are prevalent in numerous nail care products. Nail salon workers, the majority of whom are immigrant, low income women, handle these products on a daily basis, sometimes for 8-10 hours a day. As a result, nail salon workers disproportionately experience significant health issues and health disparities.
Health centers have a unique opportunity to address the health disparities faced by this overlooked population of workers and contribute to local and national advocacy that upholds their health, safety and rights. AAPCHO, working closely with Asian Health Services, an AA&NHPI*-serving health center that has spearheaded innovative services and work for its nail salon worker patients, has compiled a toolkit to assist health centers improve care for patients who work in the nail salon industry.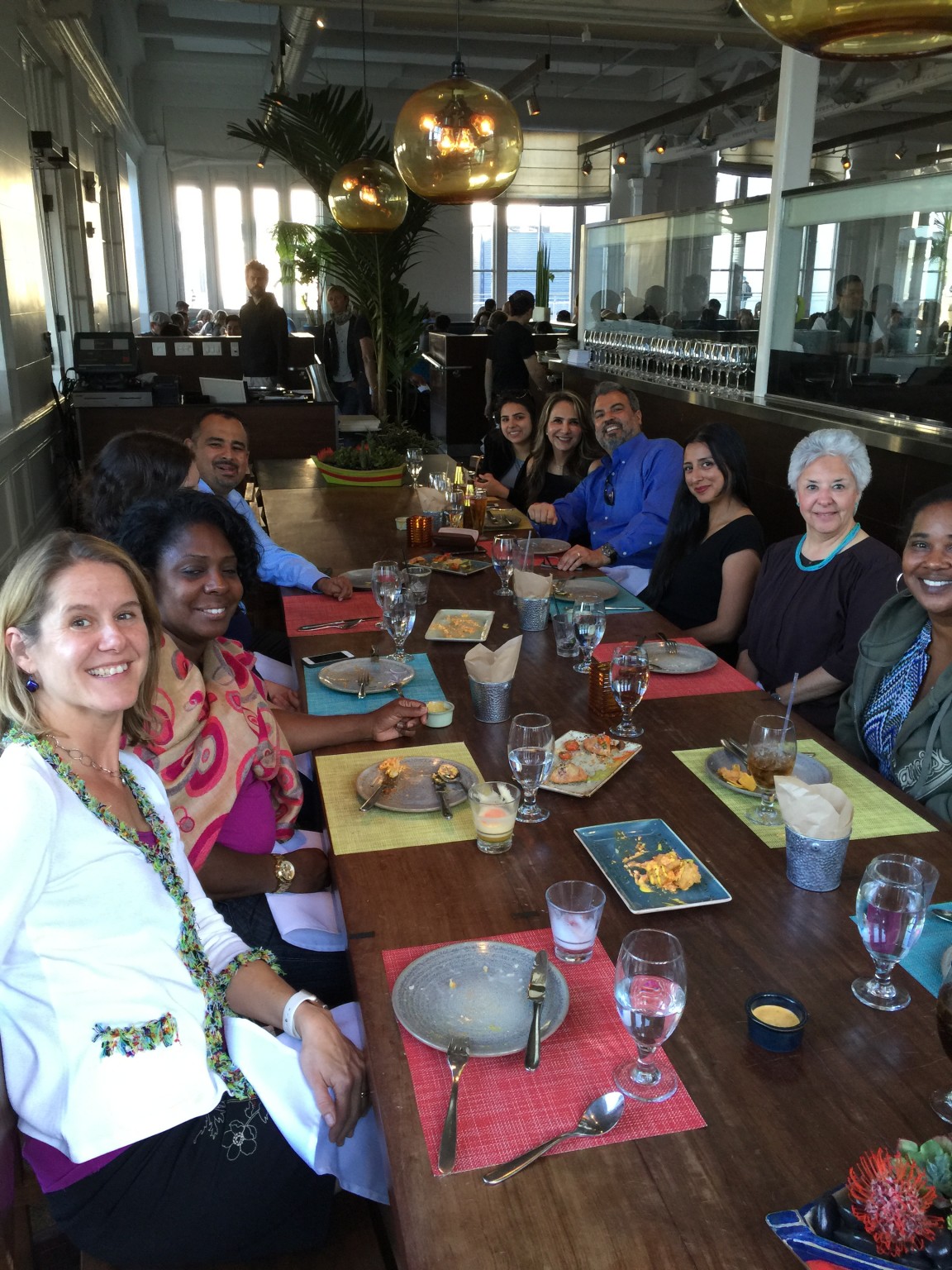 Photograph from HOP's most recent BOD Gathering
(includes non-HOP staff and BOD)
As 2016 draws to a close and we look ahead to 2017, Health Outreach Partners would like to recognize our Board of Directors, and extend our thanks to them for their support and leadership. We are grateful for the opportunity we had this year to continue working with long-time board members as well as to bring on three new members.
HOP's Current Board of Directors:
Carolina Lucero
Senior Vice President, Sea Mar Community Health Center
David B. Vliet, BHA, MBA
Chief Executive Officer, Tiburcio Vasquez Health Center, Inc.
Jana Eubank, Associate Vice President
National Association of Community Health Centers
Leanne Ta, Associate
Morrison & Foerster
Rigoberto Sabori, Board Chair
Chief Executive Officer, St. Barnabas Senior Services
Roxana Cruz Medical Director
Hunt Regional Medical Partners
Sharon Brown-Singleton, MSM, LPN
Director of Health Center Services and Support, North Carolina Community Health Center Association
Vernita Todd, MBA, FACHE
Senior Vice President, External Affairs, Health Center Partners of South Carolina
We look forward to strengthening the efforts of HOP together in the coming year.
Dear Colleagues, Partners, and Friends,
On behalf of Health Outreach Partners (HOP), I wanted to take a moment to thank you for all the meaningful and important work you do. From conducting outreach in the community, providing much-needed care to our country's most vulnerable, or advocating for just policies, you are on the forefront of advancing the health and wellbeing of our communities. Thus, we recognize HOP's success is based on the important work you do.
2016 has been a busy year for us. Here are a few highlights:
HOP launched a new Transportation Initiative funded by the Federal Transportation Administration (FTA) and Health Resources and Services Administration (HRSA). In June, I had the opportunity to present our transportation work at the National Academy of Sciences, Engineering, and Medicine in Washington, D.C.
Understanding the need to share outreach stories from the field and make available the most up-to-date information on resources, HOP debuted the Outreach Connection Blog.
Gearing up for HOP's 50th Anniversary, we kicked off our new Road to Wellness: 2020 Annual Campaign.
We relocated to a new and improved office space for our Oakland staff. Our Deputy Director also relocated from Helena, MT to Olympia, WA.
I had to opportunity to visit our founding Board Chair, Sr. Maurita Sengalaub. Our visit remains one of my most memorable highlights for the year. At 98 years old, Sr. Sengalaub remains passionate as ever about creating a more equitable and healthier world. She continues to inspire us at HOP to move forward with our work.
As I look ahead to 2017, I know that there are lots of uncertainties and possible changes to the health care environment. Regardless of how things unfold, HOP will continue to strengthen and expand its work to advance health equity and improve the health of our most vulnerable and underserved communities. We remain steadfast in our commitment to create a country where all people are valued and in which equal access to health care is available to everyone, thus enriching our collective well-being.
Once again, thank you for your work and support. Best wishes to everyone this holiday season and for the new year ahead!
In community,
Oscar Gomez, CEO
Every year, Health Outreach Partners staff travel to different places around the country to provide on-site trainings to health centers, conduct regional trainings for Primary Care Associations, attend and present at conferences, and do research for our various informational resources. Here are all of the places we've visited in 2016.
Kathy Jennings
Federally Certified Outreach & Enrollment Counselor
Carolina Health Centers, Inc. | Greenwood, SC
Anna Pavon
Migrant Program Coordinator
Eau Claire Cooperative Health Centers, Inc. | Leesville, SC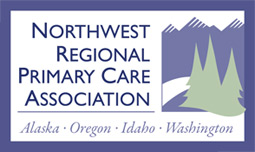 Come join HOP at the 2017 Western Forum for Migrant and Community Health from February 22-24, 2017 in San Francisco, CA. This year's theme, "Communities Mobilizing for Health Equity", will focus on how communities are working together to address health outcomes through innovative programs and models.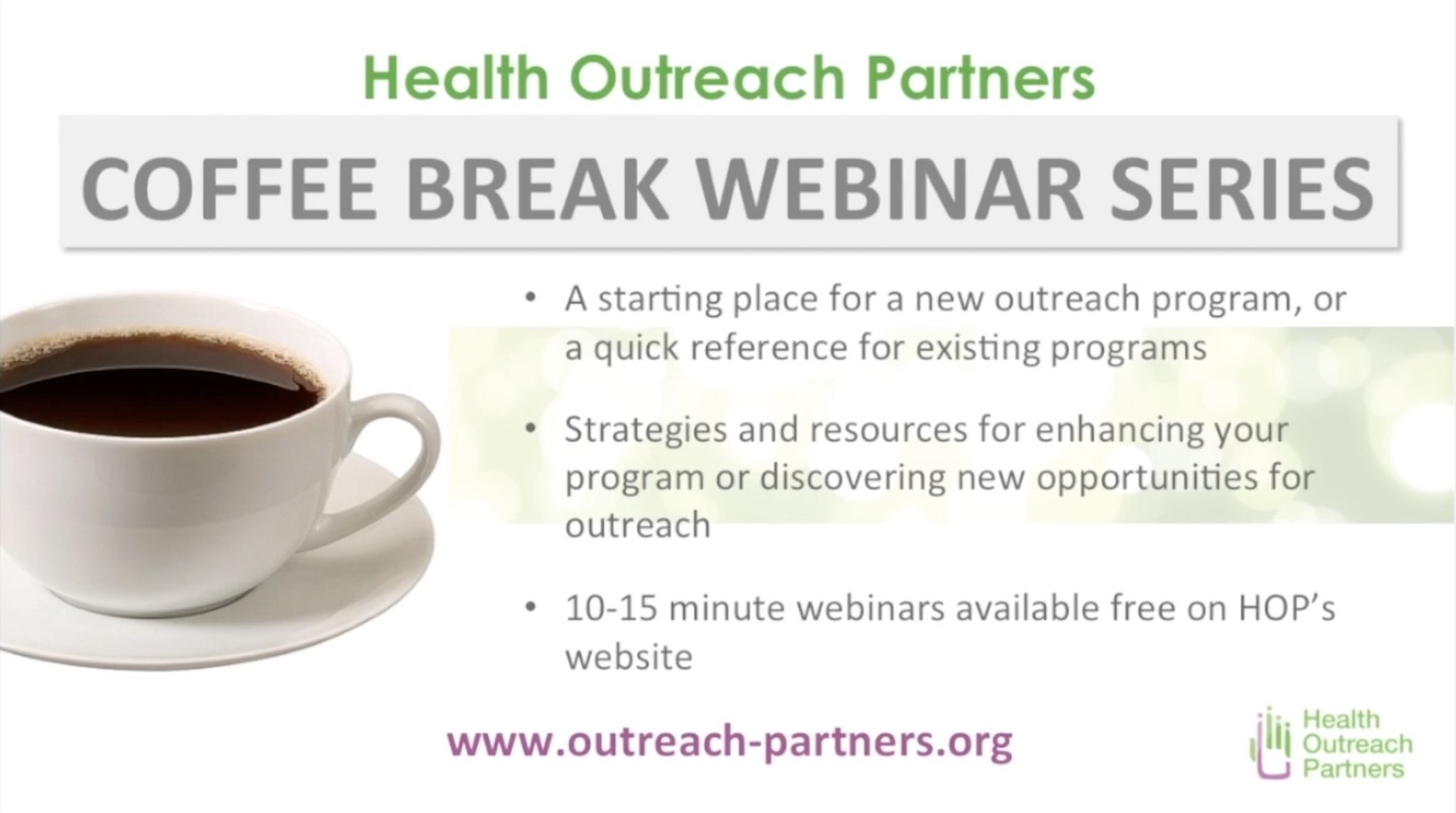 Interested in learning more about how to start a health outreach program or strengthen existing efforts? Check out HOP's latest coffee break webinar, "The 13-minute Outreach Starter Kit: A Brief Tutorial." This webinar provides an overview of our free online tool and tips for easily navigating through the available resources.

On October 27, 2016, HOP hosted a peer-to-peer webinar titled, "The Health Center Consumer Board Experience." After providing a brief overview to the requirements and functions to health center governing boards, HOP facilitated a discussion with three invited panelists: two consumer board members who spoke about their motivation and participation in this role, as well as one health center executive director who reflected on years of experience recruiting and maintaining a governing board. 
Panelists
Aisha Hampton-Bowser, La Clinica, Patient and Board Member

Alondra Chaparro, Valley Wide Health Systems, Patient and Board Member

Susan Bauer, Community Health Partnerships of Illinois, Executive Director
Learning Objectives
Participants will learn the importance of engaging consumers in planning and decision making at the board level.

Participants will have a better understanding of the experiences of a consumer board member.

Participants will identify one strategy for consumer board member recruitment.
Looking for ways to address transportation barriers at your health center? Check out these strategies that have worked for other health center around the nation. To learn more, take a look at HOP's new infobook, "Transportation and Health Access: Where Are We Now and Where Do We Go?"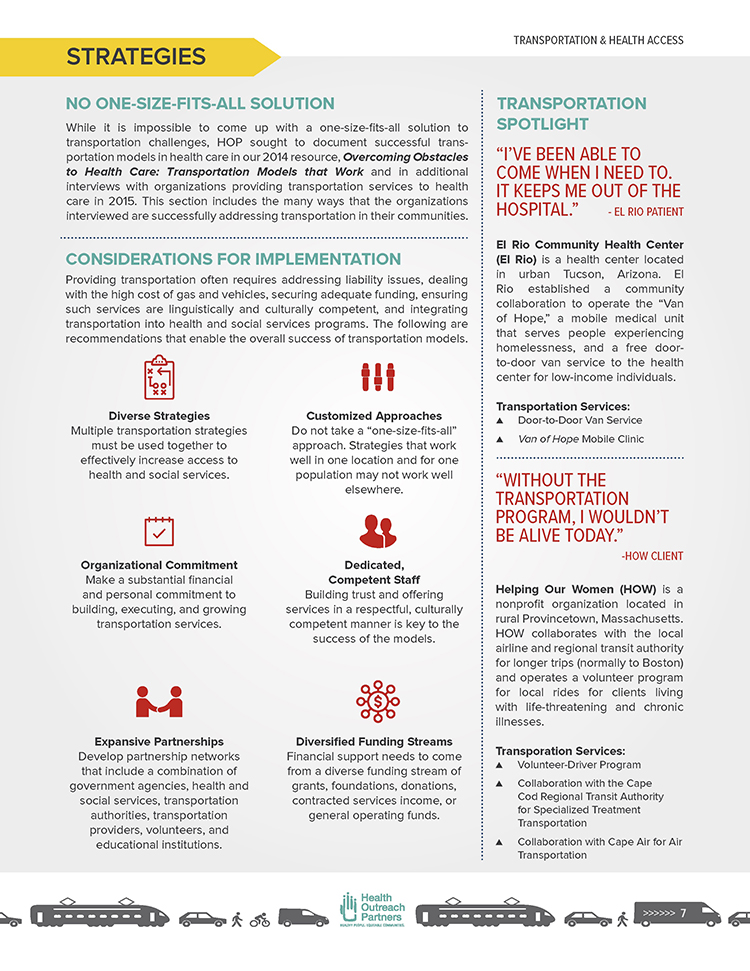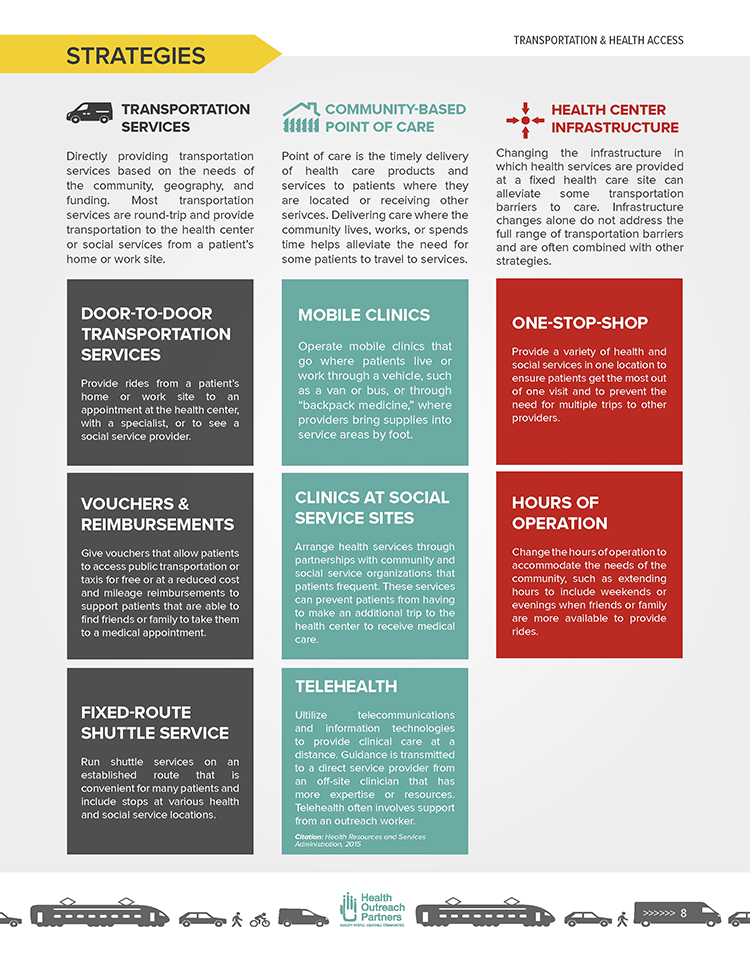 Health Outreach Partners remains committed to its vision of a country in which all people are valued, and in which equal access to quality health care is available to everyone, thus enriching our collective well-being. HOP stands together with our national, state, and local partners in our shared commitment to promote and preserve a path towards health equity and social justice for all members of our communities.
3.6 million Americans miss a minimum one medical appointment each year due to lack of transportation. Check out these infographics about the impact of transportation the health of your patients and the burden of missed appointments for health centers. To learn more, check out HOP's new infobook, "Transportation and Health Access: Where Are We Now and Where Do We Go?"