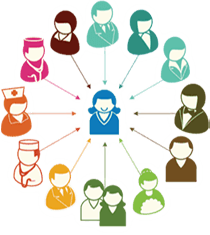 Between 2000 and 2030, the number of Americans with one or more chronic conditions will rise 37 percent, an increase of 46 million people. As the number of chronically ill and medically underserved populations increase, health centers must enhance their current service delivery models. Care coordination emphasizes collaboration between providers to increase quality of care and ultimately improve patient outcomes. In addition, this model can help reduce the overall cost of care by reducing medication errors, repetitive tests, and prevent hospital admissions. During this webinar, panelists share information about their care coordination efforts and offer important considerations for health centers hoping to start, improve, or expand care coordination programs.
Panelists:
Kelly Volkmann, Health Navigation Program Manager, Benton County Health Services
Sonia Shanklin, Director of Practice Transformation, Clinical Integration, Affinia Healthcare
Learning Objectives: By the end of the webinar, participants will be able to:
Understand the basics of care coordination and the role that outreach workers can play.
Describe how care coordination programs can improve patient health outcomes.
Identify at least one strategy for successful care coordination.