Organization: Providence Hood River Memorial Hospital | Hood River, Oregon
Contact: Lorena Sprager, OASIS Palliative Care Program Coordinator | http://oregon.providence.org/location-directory/p/providence-hood-river-memorial-hospital/
Palliative care is specialized medical care for people with serious illnesses. The goal is to improve the quality of life for both patients and their families by giving patients relief from the symptoms, pain, and stress of a serious illness or diagnosis. Palliative care is a partnership between the patient, their family, and the palliative care team. This team is usually made up of medical providers, social workers, and chaplains. The team works with the patient's own doctors to provide an extra layer of support. Despite the existence of the programs across the country, the rate of palliative care use among racial and ethnic minorities is low.[i]
The rural Columbia River Gorge area, which borders Washington and Oregon, is home to a large, low-income Latino community, with many aging immigrants. Providence Hood River Memorial Hospital is located nearby. The hospital operates the Offering Advocacy and Support in Illness and Suffering (OASIS) program, which received a grant to address disparities in the Latino community in accessing and using palliative care. OASIS, a term that has a similar meaning in English and Spanish, uses an "up-stream," community-based palliative care model to support people with serious illness or chronic diseases before they end up in the hospital.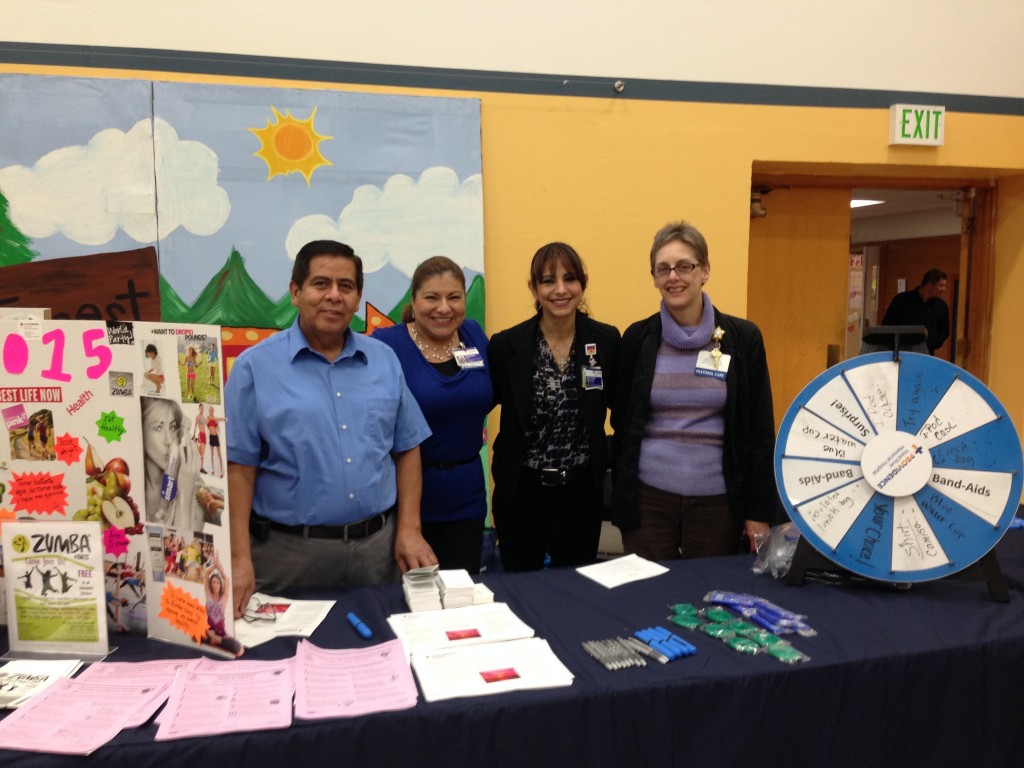 Photo: Evaristo Romero, OASIS Palliative Care CHW; Veronica Espe, Medication Assistance Program; Silvia Maciel, OASIS Palliative Care CHW; Maggie Sebastian, Chaplain, Volunteers in Action at Wy'East Middle School Community Services Fair.
The program staff includes a program coordinator and two community health workers (CHWs). Both CHWs participate in large outreach events to inform the community about palliative care, including fairs at schools and kermes at the Catholic church. Kermes are large church fiestas that involve food, music, games, and fundraising for church activities and services. CHWs play a rueda, or wheel, game to educate the community about palliative care. People spin the rueda, get asked a question about palliative care, and get a prize for playing. The festive environment and games make the potentially uncomfortable topic more fun and safe to talk about. For these events, OASIS also partners with other hospital programs that can benefit the community, such as the financial and medication assistance programs.
OASIS also offers smaller group outreach presentations using popular education methodology in homes and other community venues. These presentations include information about palliative care, the OASIS program, and how someone can be referred to the program. Additionally, the presentations encourage community members to be proactive about caring for their health and empower them to partner with their doctor in managing their health. Participants get a librito, or booklet, to fill in their name and address, their primary care doctor's name and phone number, medicines and herbs they are taking, and questions they have for their doctor. To evaluate the presentation, CHWs administer pre and post-tests that show a change in knowledge of palliative care and how to access services.
"I'm a peer community member that is able to use self-disclosure. I'm a culture bridge in both directions- between the patient and health team, and I offer continuity of care, including providing interpreter services. I also provide resources that uniquely meet the needs of our immigrant community members. The value I see in my work is that I gain the trust of the patient and their family."
-Silvia Maciel, OASIS CHW
In addition to community-wide outreach, one CHW plays a clinical role by participating as part of the palliative care team in order to bridge the medical team and the community. During biweekly, interdisciplinary team meetings, the clinical CHW provides the context for family dynamics, cultural norms, expectations, and standards. The clinical CHW also provides medical system navigation, resource support to patients and their families, and acts as a certified medical interpreter. The program strategically includes the clinical CHW both as part of the care team and in outreach activities so that there is someone on the team that community members feel comfortable with and know.
To date, OASIS has attended six large events, reaching over 2,000 people. During the next phase of the project, OASIS anticipates reaching over 500 people through small group presentations and an estimated 5,000 people through the radio. While these outreach and CHW services are not reimbursable through insurance or Medicaid payments, the two-year Health Equity Palliative Care Grant from the Cambia Foundation covers the CHWs' salaries and part of the coordinator's salary. Providence Hood River Memorial Hospital also contributes financial support by covering the rest of the coordinator's salary as well as the salaries of the providers and other program staff.
OASIS is creating and piloting this model to get CHWs integrated into palliative care teams to increase access to and use of palliative care among the immigrant Latino community. For organizations interested in starting a program similar to OASIS, Program Coordinator Lorena Sprager recommends seeking funding from hospital community benefits programs, hospital foundations, and foundation grants. She also recommends that palliative care teams partner with experienced clinic-based CHW programs to get access to trained CHWs or provide training for new CHWs. Ongoing, appropriate supervision of CHWs is essential to program success as well.
HOP Tip: For more information about OASIS palliative care program, contact Lorena Sprager, Program Coordinator, at Lorena.Sprager@providence.org
---
[i] Cardinale Smith and Otis Brawley, "Disparities In Access To Palliative Care," Health Affairs Blog, July 30, 2014, accessed June 24, 2015, http://healthaffairs.org/blog/2014/07/30/disparities-in-access-to-palliative-care/.