Public Health Department and Health Care for the Homeless Grantee: Public Health – Seattle & King County
Seattle, WA | kingcounty.gov/healthservices/health/personal/mobilemed.aspx
Contact: John Gilvar, Mobile Medical Program Manager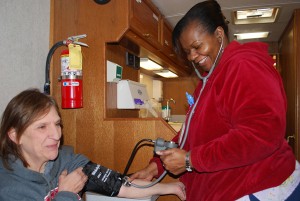 Mobile health programs are one way that organizations can bring critical health services directly to patients where they live and work. Public Health – Seattle & King County uses a mobile health program to connect unsheltered and chronically homeless individuals to medical, dental, and mental health services. Through the mobile program, Public Health provides patient-centered and integrated care that caters to their clients' specific needs.
Each month, the Mobile Medical Program holds between 12-15 medical clinics and five dental clinics at free meal programs throughout south King County. Each clinic lasts around four hours, and all services are free. There are no fees, and no insurance is required to receive services. In addition, there are no scheduled appointments. Instead, services are provided on a walk-up basis. Besides basic medical and dental services, the van staff also provides case management and outreach services. These services help link clients to:
Housing or shelter
A doctor's office that can provide follow-up care
Assistance with Department of Social and Health Services (DSHS) or Supplemental Security Income (SSI) benefits applications
Mental health care and counseling
Substance abuse treatment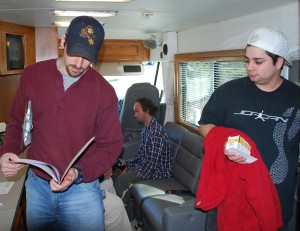 The program's most effective method for attracting clients is through informal outreach and engagement at meal programs. Meal programs enable the Mobile Medical Program to provide services where a large number of people are already gathered. The program has a website with the clinic's schedule and sends out a mass email to state benefits officers, case managers, veterans programs, and other social service organizations in the community in order to promote the mobile clinic's services and schedule.
The mobile program started as a publicly-funded pilot project as part of a larger, community-wide strategy to build an infrastructure to engage and serve chronically homeless people. Public Health conducted focus groups and developed partnerships in order to figure out how to best provide services. More than one year of planning took place between the development of the concept to use a mobile medical unit and the date of the first mobile clinic.
The mobile medical clinic is staffed by:
a physician
a registered nurse (RN)
a medical benefits navigator who provides case management
an outreach worker who also drives the van
a psychiatric social worker
The mobile clinic is staffed by a dentist and a dental assistant who drives the van when dental care is offered.
The program serves around 500 clients each year and about 70% of them are uninsured. The total budget is $800,000 per year, and this includes staffing costs, maintenance, repairs and operating costs. The program is funded through a combination of King County Veterans and Human Services Levy funds, local grants, and federal grants. This funding revenue is crucial for the program's sustainability since many of the services provided are not billable.
HOP Tip: For more information about mobile medical services, check out:
Mobile Health Clinic Association: www.mobilehealthclinicsnetwork.org/